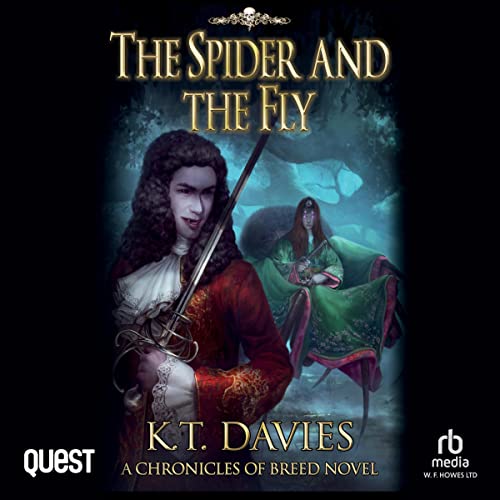 Rejoice! The Spider and the Fly audio book has been released. I'm sure most of you have read it already, I mean, why wouldn't you? But you can now listen to the adventures of the noble yet insecure arrachid warrior, Shey Jing, and the misadventures of the foppish demon-with-a-blade Sebastian Schiller.
It is available at your local Amazon, you can click on the picture above to go there….
---
In other news, I'm sure by now you've all heard of ChatGPT. The language AI along with its visual companions like Midjourney are rocking the creative industries. I've visited forums where people have been ecstatic about how it's going to write books for them and speed up productivity which sounds soulless to me, but each to their own. I've also read doom laden comments from writerly/artist types who are fearful for their futures.
To say it is a divisive issue is an understatement. Rather than wax lyrical, I thought I'd go straight to the horse's mouth with a question.
There were a few moments of cogitation as ChatGPT searched the world for the bestest words with which to formulate an answer, and please, bear in mind this is a baby a mere neonate in the infancy of its infancy. I've edited its answer for length because the full response ran to 4 paragraphs and was repetitious. NB: I haven't altered meaning, just taken out repetition.
Does ChatGPT signal the end of writing as a career?

No, ChatGPT does not signal the end of writing as a career. While AI language models like ChatGPT have the ability to generate high-quality text, they are not a replacement for human creativity and critical thinking. Writing is a highly skilled profession that involves a deep understanding of language, audience, and subject matter. […] These are all skills that cannot be easily replicated by machines.

AI language models like ChatGPT can be seen as a tool that complements and enhances the work of human writers. By using these models to generate ideas, gain inspiration, or automate certain parts of the writing process, writers can focus more on the creative aspects of their work and spend less time on repetitive or tedious tasks. This can lead to more efficient and effective writing and may ultimately result in better quality work.

[…] AI language models like ChatGPT may change the way that writing is produced and consumed, they do not signal the end of writing as a career.

ChatGPT
And there you have it. Or at least there you have #1 iteration of 'it' according to this lil' baby Al. Now, sure as eggs is eggs some folk are already using it and programmes like it to 'generate content' for novels and short stories. Some magazines have even shut down submissions due to being inundated by machine written 'work'.
It is what it is I suppose; the genie will not be put back in the bottle.
I hope that people will always be able to distinguish my writing from that of an Al and a weirdly masochistic part of me is curious to see if that will always be the case. I don't write to a formula; I never try and engineer what will 'work'. The story is what the story is.
---
There are formulas for writing fiction, the most famous is probably The Writer's Journey' which riffs off Joseph Campbell's 'hero's journey' from his seminal work(s), The Hero with a Thousand Faces,
You've seen it a thousand times because Hollywood has done the hero's journey to death.
And that's it in a nutshell. Formulas are finite, predictable, mechanical. Human imagination and the unique connection forged between the mind of a reader and writer, not so much.
---
All the best,
K.T.